Thank you to Mom's Facebook Group
What is the Meal Team Program?
The Meal Team Program is a volunteer activity for groups seeking a way to assist families and individuals experiencing difficult time by providing them with the gift of a homemade nutritious dinner. Prepared meals that will be distributed to struggling members of the community, such as those in distress due to illness or loss. The program is ideal for groups seeking a one-time commitment, for team-building events or volunteer days. Returning groups are welcome and encouraged!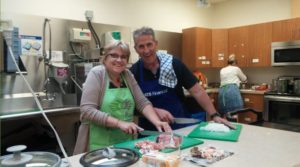 Groups Size: 8/10 people
Who: Church Groups, Work Team Building, Families, Sports Teams, etc.
How Long: 3-4 hours
Cost: $200.00
How Many Meals: 18-20 Meals
What Meals: lasagna, chili, shepherd's pie, chicken pot pie, sausage and pasta, and casseroles.
Thank you, PAST Meal Teams to:
Boys and Girls Club
Rock Haven Church
Now recruiting Meal Teams – please email us for details
Thank you to "Seniors on the Bow" for the use of the commercial kitchen.
Click HERE to learn more about them and their programs.