Looking for a way to get involved? Helping Hands partners with individuals, families, groups, schools and companies.
We would love to have you join our volunteer team!
Click here to sign-up:  Helping Hands 
Or call 587-580-9448 to get involved!
Volunteer as an individual or family
There are opportunities to fit any situation, whether it is one-to-one with an isolated senior, providing handyman duties, working as a team or family to help a family in need, or joining in the fun of the Food Drive. Mature adults can help less mobile seniors. There is an increasing need for volunteer drivers, which can sometimes fit in with the volunteer's schedule or plans, and is always appreciated.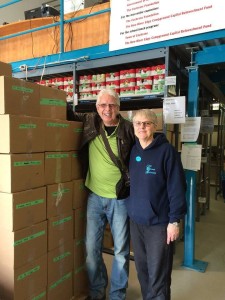 Some examples of requests we fill:
visiting isolated seniors
running errands for those recovering from surgery
performing small repair jobs
befriending a new immigrant
tutoring a child
giving a break to caregivers
assisting with yard work or moving
snow removal
helping with light housework
Please click here to see all the services and programs offered through Helping Hands.
Volunteer as a group, school or company
Contact Helping Hands to discuss how your group, school or company can get involved. Examples of past campaigns include:
100 Woman Who Care for the generous donation – MAR 2018

Mme. Duvette's PM Kindergarten class for the donation – DEC 2017
RancheView School Cochrane for the Food Bank Donation – NOV 2017
Springbank Community High School for the Food Bank Donation – NOV 2017
100 Men Who Care – DEC 2016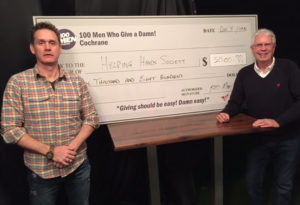 Success Story
A perfect example of how amazing our volunteers are came from a winter snowfall event involving a retired couple with health related limitations. Helping Hands was contacted by their son who lives out of town. Through the Snow Helper Program a volunteer kept the snow shoveled even though the snow event lasted several days.
The couple and their son both called to thank Helping Hands. This Snow Helper volunteer not only provided snow removal, but also formed a lasting friendship with the senior couple, (helping to fight social isolation for everyone involved).
Thank you!
Thank you to all the volunteers who have helped and continue to assist with Helping Hands. Please continue to spread the word about this worthy program helping others in our own community.